Music Exchange
South Africa's independent music summit
New York promoter signs with local rock act Evolver
12 June 2009
Evolver announces the recent acquisition of their new Manager and Promoter, Doug Davenport, hailing from New York City in the USA. After hearing Evolver during a recent holiday to South Africa in 2008, Doug began the process of negotiating with the band to sign as their exclusive Manager and Promoter. Davenport identified Evolver as an undiscovered International Hit and, in several public speeches, has called them, "The most talented Rock Band in South Africa". His arrival in South Africa and attending the Music Exchange Conference in Cape Town in March of this year, confirmed his professional interest in Evolver. He and the band decided to formalize their agreement after some closed door meetings following the Conference.
Doug has worked with well known International Acts such as mega band U2, The Killers, The Cult, JET, The Strokes, The Enemy and many others. He has decided to expand his horizons by coming to South Africa for what he says will be "An International explosion of investment in SA" following the 2010 World Cup. Having been a successful music promoter in America for many years, Doug has promoted large Music Festivals and rock acts such as The Amnesty International Concerts, The U.S. Download Festivals, Central Park NYC Music Festivals, NYC Pier Concerts, just to name a few. With extensive involvement in Venue Promotion in America, Doug also owns a large Club Promotion business in NYC.
"Doug Dee (as he is known to the band) is a breath of fresh air and an inspiration to be around, he is positive and passionate in everything he does, him being part of the Evolver machine has not only poured petrol on the fire in the band, but sprinkled a bit of napalm in the mix. Watch out people, Evolver is ready to explode!" says Peter Pote, Evolver's front man.
"Seeing Evolver on the big stage at Coke Fest 2009 was proof of their "Big Sound" and only solidified my feeling that they could compete in the International arena. Their ability to excite the 20,000 fans was impressive on any level", adds Davenport.
Doug's decision to spend more time in South Africa has been an exciting catalyst, and his wealth of experience is sure to bring the American passion and spirit to Evolver's evolution.
From BizCommunity.com
MUSIC EXCHANGE A SELL OUT
Your LMG, May 2009
Cape Town, 6 May 2009
"We've created a beast here!" whispered Martin Myers, the organiser of the sold out Music Exchange, as dozens of delegates, panellists, speakers and media poured into the conference room at the Protea Hotel Victoria Junction in Cape Town in late March.
Keynote talks and panel discussions from global experts in the music industry blew everyone away and surprised sceptics from major record labels who didn't believe the conference would happen let alone be executed with such military precision. Stuart Rubin, David Vodicka, Arthur Goldstuck, Yoel Kenan and Nick Matzukis are just some of the movers and shakers who imparted their knowledge to an awestruck audience. A surprise visit and talk by Charles Goldstuck, former COO of Sony BMG worldwide went down a storm and firmly entrenched the inaugural conference as a force to be reckoned with in terms of shaping the South African music industry and grooming it for great things in years to come.
We spoke to the speakers and panellists after the conference to find out how they gained from this industry first
As a speaker, how much interaction did you have with conference attendees?
"Actually quite a lot of interactions during one-on-one sessions, breaks and at Zula. I've met quite a few artists and labels who were interested in getting into business with my company. I will definitely be a part of it next year," said Yoel Kenan, Keevision.
"I've been to many conferences, but this one stands out as the one with the highest face to face interaction and the one where I met the highest proportion of delegates after my presentation," added lawyer Nick Matzukis.
Did you see benefits being imparted to them - not only from you, but others as well? If so, in what ways?
"Music Exchange had the result of tangibly opening up the "mysteries" of the industry to people who were keen enough to attend," said Stuart Rubin, former Senior Vice President International Commercial Marketing Group for Sony BMG, "The speakers were experienced, practical and open people who had no reason not to answer candidly when asked – this definitely benefited delegates."
"Absolutely yes! Every panelist and speaker delivered real information in a fresh and engaging way, putting attendees at ease. This is turn made for great debates and conversations during and after each session," continued Jason Curtis, a long standing music journalist, "Music Exchange has started a dialogue that's been sorely missing in the South African music and entertainment industry and the sheer swell of support for the inaugural conference proves that people are keen to be empowered and, more importantly, share knowledge and experience to the collective benefit of all who actively participate in the space now created."
Close on 80 delegates – some from Johannesburg and Durban - rocked up excited, many having found out about the conference at the last minute through word of mouth and the Facebook group.
Did you experience personal interaction with any of the speakers and panelists during the conference? How did these interactions benefit you?
"My personal interaction with speakers and panellists during the conference was incredibly beneficial," said Shannon Hope, an aspiring artist from Durban, "While the independent road is still a daunting one, looking back on the wealth of information communicated, and having networked with artists who have and are marketing, managing and successfully promoting themselves, it is possible, albeit with limited resources, to gain some headway independently, and having gained some key insight into industry workings, I feel I am more equipped to do so."
Which speeches/panel discussions were of most relevance to you and what did you take away from them?
"Nick Matsukis' speech was of particular value to me, as was Peter Lacey's talk," said Jordi Reddy of The Sleepers, "It is evident that I was more interested in the inner workings of the music industry and the financial breakdown. This is information that is generally not easy to come by in general conversation."
"We have also collaborated on the business front with regards to marketing strategies and constructive criticism of our music," continued Reddy.
"Music Exchange was a valuable experience, we had the opportunity to pick the brains of tons of professionals in our field," was the comment made by up and coming SA rock band Evolver, "It was pretty frightening to see the lack of support from the locally based major record labels however it is fantastic to see the love of rock exude from these delegates and how they aim at improving the standard of music management in South Africa."
Following the success of this conference, works are already underway in preparation for Music Exchange next year which has provisionally been booked for 15 and 16 March 2010. More details to follow.
Slideshow on SMD Tech website
Cape Town, 22 April 2009
Music Exchange slideshow added to SMD Tech website.
Music Exchange 2010
Martin Myers
Cape Town, 17 April 2009
Following the success of this conference, works are already underway in preparation for Music Exchange next year which has provisionally been booked for 15 and 16 March 2010.
Cape Town Magazine, 8 April 2009
A young South African boy, Sam Kaase, has written a song called "Insurgence", to change South Africa
FREE Download at Sing For Change »»»
Musiekkonferensie Baat Vele Musikante
Marian Malan, Die Burger, 27 March 2009
Cape Town, 27th March 2009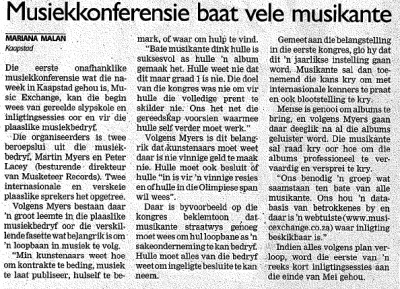 Read full article
[PDF]
MUSIC EXCHANGE PHOTOS
Cape Town, 24th March 2009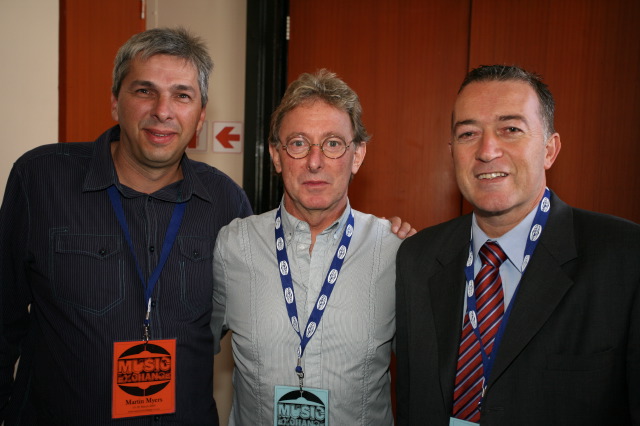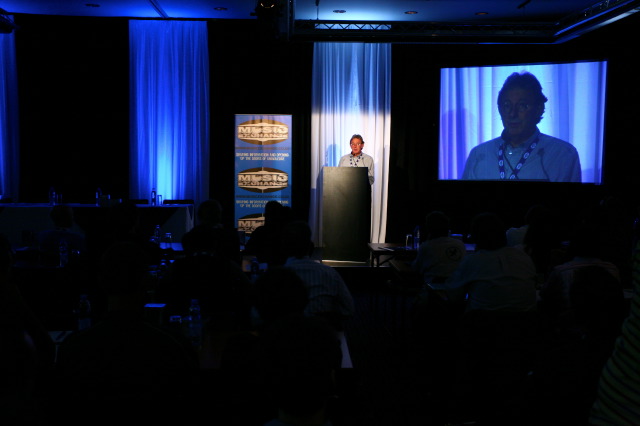 More images in the photo album
GLOBAL MUSIC LEADER PAYS SURPRISE VISIT TO SA MUSIC CONFERENCE
Cape Town, 22nd March 2009
Charles Goldstuck, former COO of Sony BMG, currently a global investor in media assets in emerging markets paid a surprise visit to Music Exchange, SA's first independent music conference and gave a short address to delegates on music in the gaming industry and the future of digital distribution.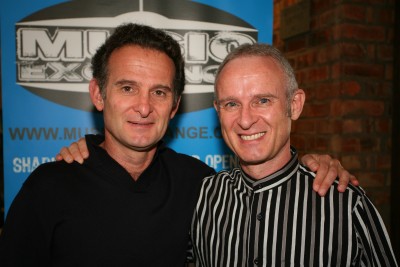 Left: Charles Goldstuck; Right: Arthur Goldstuck, CEO, World Wide Worx.
Picture: Simon Deiner
Get the inside info at Music Exchange
The Weekender, 14th March 2009
Cape Town, 17th March 2009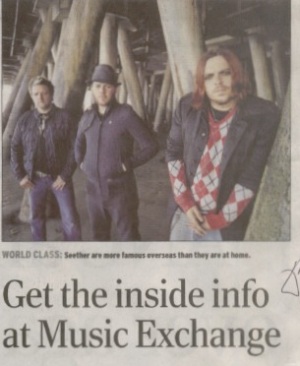 HOW do you fight music piracy? How do you distribute music intelligently? How do you make money from passion? What happens to the proceeds of CD sales?
All these questions will be tackled at the first Music Exchange, a two-day conference where seasoned professionals will share their knowledge on the industry. Read more at The Weekender »»»
GAVIN RAJAH AGREES TO DELIVER OPENING WELCOME TO MUSIC EXCHANGE
Cape Town, 15th March 2009
Another big name has joined the Music Exchange conference — Gavin Rajah.
He has agreed to deliver opening welcome to Music Exchange prior to Stuart Rubin's keynote speech on Thursday 19 March 2009 at 9.45am.
Rajah is a household name in South Africa and has established himself as a brand internationally in fashion and events. But what many people don't know is that his creativity extends beyond fashion with his passion for music. Rajah plays the piano and the flute and does not begin any creative process without having music near him. Read full article at iafrica.com »»»
---
MUSIC INDUSTRY GIANTS MEET
Evan Milton, The Good Weekend Argus, 14 March 2009
Cape Town, 15th March 2009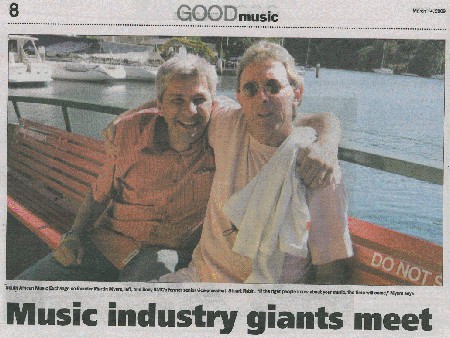 ---
Detailed Topics
Cape Town, 13th March 2009
Agenda updated. Read more »»»
---
CONFERENCE TO CHANGE FACE OF SA MUSIC
Jason Curtis, Cape Times, 13th March 2009
Cape Town, 13th March 2009

Music – we all love it, but few of us can figure how it all pieces together … Until now, that is. Music Exchange, South Africa's first independent music conference, is coming to Cape Town on 19 and 20 March Read more »»»
---
DEADLINE FOR DEMO SUBMISSION EXTENDED TO WEDNESDAY 11 MARCH 2009
Cape Town, 7th March 2009
We have had an overwhelming response from people wishing to drop off demos and have had numerous requests to extend the deadline... so we have!
Please make sure you drop your demo off with a profile of the band. Also note that the opportunity to drop these demos off is open to Music Exchange delegates only - so if you want to get your stuff heard, you still have time to invest in a ticket to what could shape the rest of your future in the music industry!
---
QUICK UPDATE ON DEMOS
Cape Town, 7th March 2009
If you are unable to physically drop your demos off at Total Media in Cape Town, you are welcome to post your CD to the following address:
FAO Tim Hill
Total Media
PO Box 73
Woodstock 7915
Alternatively, you can email me an MP3 no bigger than 4MB to tim@totalmedia.co.za or you can email me a link to an FTP site where I can download it.
Whilst on the topic of demos, I have been approached by a number of you who are band managers - as a delegate, you are welcome to submit a demo on behalf of the artist or artists you represent. This applies to songwriters too. Accepting these demos is by no means limited to performing artists attending the conference.
---
It's all about the music
Cape Town, 3rd March 2009
What do Pink, Christina Aguilera, Dave Matthews, Dido, Puff Daddy and Foo Fighters have in common?
Not much, you might think. But all have had their international success overseen by one man - Stuart Rubin. Hardly a household name but the former Senior Vice President International - Commercial Marketing Group for Sony BMG has helped push the careers of more artists than even his long job title may suggest. From Guns N' Roses and Nirvana to Cher and Kenny G, during 30 years in the music industry, he's helped build their global careers.
Read the complete Stuart Rubin interview on iAfrica.com
---
You should already have purchased a ticket for Music Exchange, to be held in Cape Town on Thursday 19 and Friday 20 March.
Cape Town, 2nd March 2009
If you don't recognise names like Elvis Presley, Seether, Jet, Danko Jones, Enrique Iglesias, Dead can Dance, Sipho "Hotstix" Mabuse, Ben Lee, Lisa Gerrard, Rodriguez, Metallica and Westlife then you probably shouldn't read any further as we can't help you. If any of these names ring a bell you should already have purchased a ticket for Music Exchange, to be held in Cape Town on Thursday 19 and Friday 20 March.
Music Exchange will give all attendees the unique opportunity of being able to meet, talk to, ask questions of, and even get one on one time with 23 local and international music industry experts.
Q:- Which internationally acclaimed bands have you worked with?
We'll also give you the practical tools, direct contacts and advice you'll need to do what some of these people have done. They are here for the sole purpose of enhancing your career by giving of their time and experience.
Q:- Of which achievement are you most proud?
Please don't forget those demos. It's one of the key things we are introducing you to here in South Africa. Every speaker and panelist will listen to every demo submitted and give us feedback which we will then pass onto you to help you perfect your art. And if anyone likes it, you could just find your career lifted into the stratosphere.
Music Exchange R900 for the two days!
So book now on www.webtickets.co.za and we hope to see everyone there!! And read more on www.musicexchange.co.za
---
Submit Demos
Cape Town, 26th February 2009
Delegates can submit demos to the people that matter… in person.
Deadline for submitting demos is 6 March.
Please drop off demos at:
FAO: Tim Hill
Total Media
1st Floor Old Warehouse Building
Black River Park
Fir Road
Observatory
Cape Town
Tim Hill,
Senior Account Manager, Total Media
(021) 448 2020
082 888 5945
---
MUSIC EXCHANGE Q&A
The benefits that may be gained by attending Music Exchange.
Cape Town, 12th February 2009
Music Exchange speakers and Panelists answer some important questions. See Music Exchange Q&A on the individual speaker and panelist pages.
---
Music Exchange in the news!
Cape Town, 12th February 2009
Press articles in Cape Argus and Pretoria News
---
Conference fee now R900!
Cape Town, 6th February 2009
Conference fee is R900 in total for both days.
---
UPDATES
Cape Town, 6th February 2009
---
What you will get out of attending the
Music Exchange conference
Cape Town, 1st February 2009
Exciting times are ahead with Music Exchange fast approaching. So you want to know what you will get for your money when attending the conference… well where do we begin!?
All delegates will be given a chance to submit a demo recording of their works and this WILL be listened to by some of the top guys in the music industry. A select few will be given the chance to perform in a showcase evening where everyone involved in the conference will be!
All delegates can book time with panelists and keynote speakers for one on one chats…. You may even personally hand them your demo if this is what you'd prefer to do! They are making themselves available to you!
Anyone can read a text book and attempt to understand certain elements of the music industry, but sometimes it helps to hear it from the horse's mouth so that we can get a more in-depth understanding. The panelists and speakers all know their stuff backwards – many have been in the music industry for decades - all speak with authority. This isn't a university lecture hall where texts are recited; this is an interactive conference where everyone shares their experiences, advice and knowledge – it's a two-way stream where delegates can ask, debate, question and comment on elements that form the complete industry. No bullshit, just fact!
We also live in a day and age where the answer is to work for ourselves and make our own money… this conference will bring out the entrepreneur in you… Many people don't love what they do in their careers and we see that you have a passion for music so why the hell can't you make a career out of it… but you need the tools and this is what Music Exchange will give you!!
South Africa has world class talent and we need to get more bands onto international stages and it is possible… in the words of Obama "Yes we can!" For the same price as a heavy weekend's jolling, this could seriously be the best R900 you'll ever spend!
Music Exchange is an investment in YOUR OWN future!"
---
UPDATES
Cape Town, 18th January 2009
---
INDEPENDENT CONFERENCE SET TO TUNE INTO SA MUSIC BUSINESS
Cape Town, 10th January 2009
Music Exchange is a two-day conference where seasoned professionals will impart their knowledge on the industry, giving know-how and empowering delegates on how to make a living out of their passion for music. Music Exchange will be held at Protea Hotel Victoria Junction, Cape Town on 19 and 20 March 2009.
Business savvy is more crucial today than ever before and the conference offers a survival kit for this highly competitive industry.
Over a dozen keynote speakers and panelists have proffered their services to the conference, including Stuart Rubin former Senior Vice President International - Commercial Marketing for Sony/BMG Music Entertainment, and Peter Theunissen, CEO, Cape Music Industry Commission. Topics to be discussed include contracts, distribution methods, publishing and promotion, whilst topics on rights and royalties will be delved into - all of which are essential elements in fast tracking to success. A highlight for delegates is the opportunity to book a slot with the speakers and panelists who have committed themselves to share personal and invaluable advice at breakaway sessions. More keynote speakers will be announced in weeks to come.
Headed up by music industry professionals, Martin Myers a long-standing industry publicist, and Peter Lacey, MD of Musketeer Records (Seether's record label in South Africa), with the guidance of strategic communications consultants Total Media, the conference aims to give musicians an insight into the workings of the music business in South Africa as well as an opportunity to ask hard-hitting questions of knowledgeable industry professionals.
"We want to open the doors for delegates to meet experienced professionals, deliver a lot of answers and shed light on the challenges faced by musicians involved in, or thinking of entering the music industry today" commented Myers. "We are confident that delegates will walk away with powerful and practical knowledge that they can use as a platform to great things for their careers as well as the business of music in South Africa."
Delegates are encouraged to submit a demo with their registration and 4 bands/ performing artists will be hand picked by the experts and invited to perform live at a showcase evening in front of the who's who in the industry.
Attending this conference is a priceless investment into the career of those involved in many capacities in the music industry.
The conference fee is R900 for both days.
Tickets available from webtickets.co.za

Feedback
Music Exchange has started a dialogue that's been sorely missing in the South African music and entertainment industry -- Jason Curtis Read more »»»

I've got enough knowledge now to put things in place to swing my career into a positive cashflow instead of the other way round. I say, bring it on. I'm ready!! Music exchange gave me those tools. -- Venessa Nolan Read more »»»

A week on from the conference and my head is still jammed full of info - settling back into London mode and unravelling all the actions I'd given myself to follow up on! -- Sue Northam Read more »»»

Thanks for a really life changing event, I feel that I got a lot more than I bargained for and that I now have the tools to make a success of my music career. -- Mark Bekker Read more »»»

We want to congratulate you on putting together an amazing event -- Peter Buitendag, Victoria Junction Hotel Read more »»»

I can sum up the whole conference with one observation: in your closing, your received a standing ovation ... that says it all. -- Brian Currin, Online Marketer Read more »»»

WOW!!!! What can I say – you have both pulled off an amazing coup and one that is set to reverberate through the music industry for some time to come! -- Kaz Henderson, Total Media Read more »»»

I was really impressed by the quality of the organisation. It is by far the best Music conference I have attended in Africa. -- Yoel Keenan, Keevision Read more »»»

It was pretty frightening to see the lack of support from the locally based major record labels. It is fantastic to see the love of rock exude from these delegates and how they aim at improving the standard of music management in South Africa. -- Evolver Read more »»»


Organizers
Venue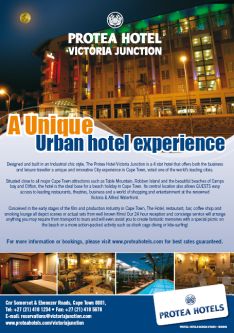 Radio Adverts
Facebook
Tickets

Tickets available from webtickets.co.za
Poster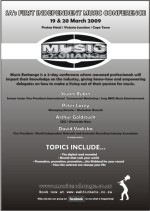 Click for bigger picture
Resources


Brian Currin Online Marketing

Rhythm Online Music Store